Sunita Jumbo Green Olives 2Kg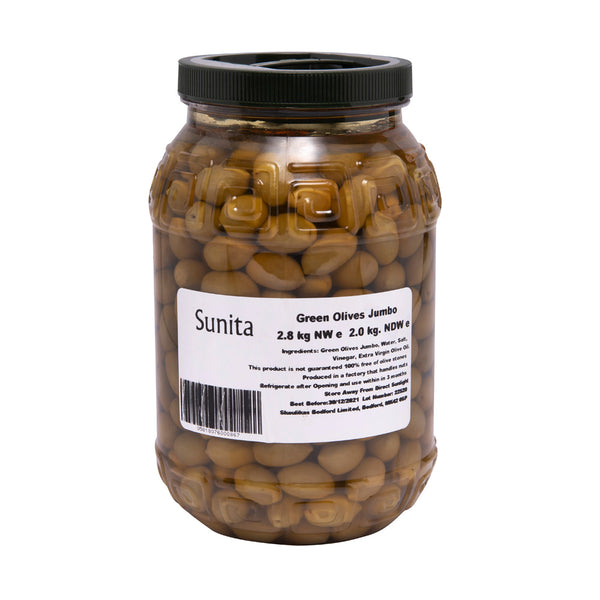 Our jumbo green olives are of the Konservoila variety, which is deservedly one of the most popular and well-known Greek olives. Sunita organic green olives are hand harvested in central Greece to avoid damage to their delicate skins.
Serve with crackers and a savoury topping or as a starter with Sunita tahini and pitta bread.
Nutritional Information
Average Values per 100g
Energy
812kJ /194kcal
Fat
19.8g
Carbohydrates
4.2g
of which: Saturates
1.6g
of which: sugars
0.3g
of which: Mono-unsaturates
15.3g
Fibre
3.9g
of which: Polyunsaturates
2.9g
Protein
1.8g
Salt
8.2g
RI = Reference Intake
Product Information
Ingredients
Jumbo green olives, water, sea salt,
acidity regulator: lactic acid.
Not guaranteed free from olive stones.
Allergen Advice
No allergens present.
Suitable for
Vegetarians, vegans, coeliac,
lactose intolerant.
Produce of
Greece
Sizes Available

450g Vacuum bag, 2Kg Tub.