Basso Aromatic Oil & Chilli 1 x 25cl Bottle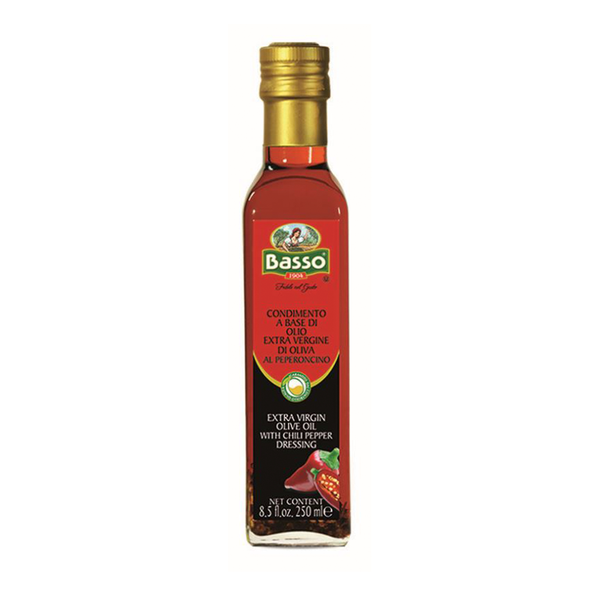 A winning combination between extra virgin olive oil and spicy chilli, it is a condiment able to marry perfectly with some of the typical dishes of our country's food and wine tradition, adding to each course that "something more". The chili pepper, carefully dosed, enriches with its strength the classic taste and aroma of extra virgin olive oil, and gives it a fiery red colour.
All the materials used to produce this condiment come from the European Community, and more specifically from Italy, Greece, and Spain.
The liveliness of the chili pepper enhances the flavours of legume soups, dishes based on grilled vegetables, first courses, grilled meat or cacciatora. The bravest palates can also try it on fish soups or even on pizza.
Nutritional Information
Average Values per 100g
Energy
3700kJ/900kcal
Fat
99.9g
of which: Saturates
15.4g
Carbohydrates
g
of which: sugars
0g
Protein
0g
Fibre
0g
Salt
0.g
RI = Reference Intake
Product Information
Ingredients

Extra virgin olive oil 96,8%, liquid aroma (chilli pepper) 2%, chilli pepper 1.2%.

Allergen Advice
No allergens present
Suitable for

Vegetarians, vegans, dairy free, Gluten Free

Produce of
EU
Sizes Available
25cl