Basso Aromatic Oil & Lemon 1 x 25cl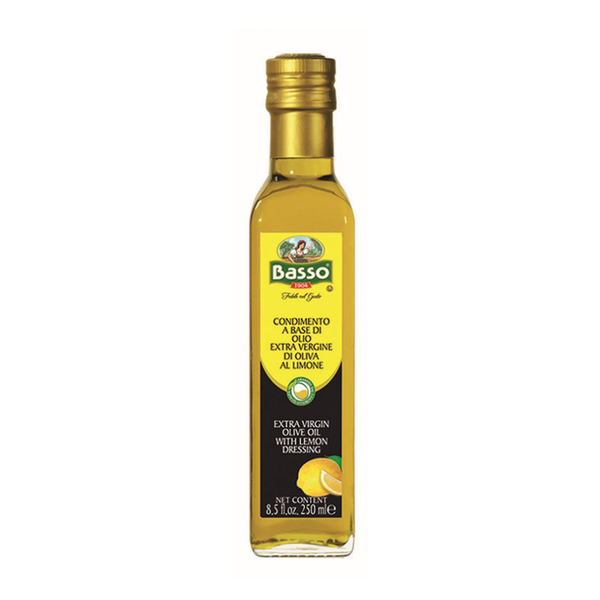 One of the typical fruits of the Mediterranean scrub meets extra virgin olive oil, giving life to a seasoning with a fruity herbaceous aroma, enhanced by the fresh, sparkling, and refined notes of lemon. In addition to a very particular flavour and a light colour, lemon also brings all its beneficial properties to this dressing, making it an oil recommended for a balanced diet.
All the ingredients used to produce this condiment come from the European Community, and from Italy, Spain and Greece.
This is the perfect type of seasoning for fish dishes, cooked both on the grill and on the grill, as well as for white meats. The presence of lemon also makes it ideal for salads and grills of all kinds.
Nutritional Information
Average Values per 100g
Energy
3700kJ/900kcal
Fat
99.9g
of which: Saturates
15.4g
Carbohydrates
g
of which: sugars
0g
Protein
0g
Fibre
0g
Salt
0.g
RI = Reference Intake
Product Information
Ingredients
Extra virgin olive oil 97%, liquid aroma (lemon) 3%.
Allergen Advice
No allergens present
Suitable for

Vegetarians, vegans, dairy free, Gluten Free

Produce of
EU
Sizes Available
25cl