Granoro Arrabbiata (Hot) Sauce 1 x 370g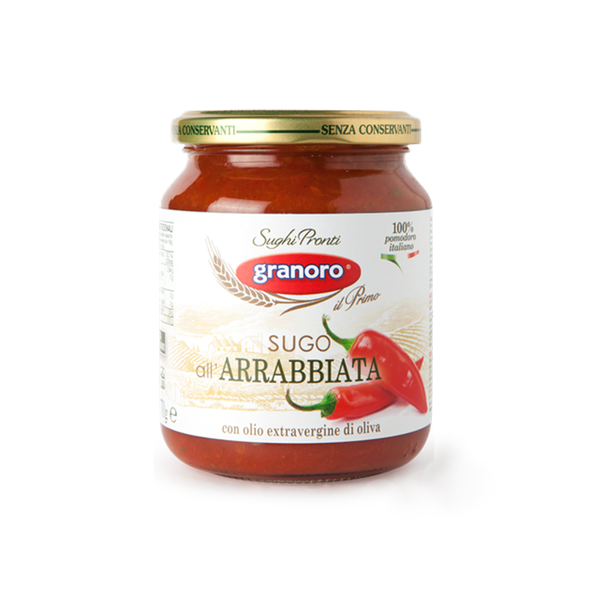 Granoro ready-made pasta sauces are the result of a combination of simple ingredients and Italian culinary tradition. A rich variety of flavours and colours with a common ingredient, quality, as can be seen on the labels of all of our products (the proof is in the labels of our sauces). The chopped tomatoes and vegetables used are produced from fresh tomatoes and vegetables grown in Italy and carefully selected and processed within a few hours of picking. All the sauces are made with extra virgin olive oil. The result is a lovely bright red sauce, just like sauces prepared at home using fresh tomatoes. Packaged in glass jars, with no preservatives, Granoro's ready-made pasta sauces undergo heat treatment to ensure all of the characteristics of the fresh product remain intact until it reaches your table, to guarantee that intense flavour that tastes of home.
They are easy to prepare as they are made from ingredients typically used in Italian cuisine. Pour the contents of the jar into a pan and heat it as it is or add a small amount of the cooking water from the pasta. When the pasta is cooked, add it to the pan with the chosen sauce. Mix together and toss over the heat for a little while. Add a little grated parmesan cheese and your Granoro first course dish is ready to serve. Once opened, any leftover product should be kept in the fridge.
Nutritional Information
Average Values per 100g
Energy
159kJ/38Kcal    
Fat
2.2g

of which: Saturates
0.3g
Carbohydrates
2.9g
of which: sugars
2.9g
Fibre
1g
Protein
1.2g
Salt
0.3g
RI = Reference Intake
Product Information
Ingredients
chopped tomatoes, extra virgin olive oil, hot chilli pepper (0.4%), garlic, parsley, onions, salt (0.3%).
Allergen Advice
No allergens present.
Suitable for
Vegetarians, vegans, dairy free, gluten free
Produce of
Italy 
Sizes Available
370g