Isola Bio | Organic Rice & Hazelnut Drink - 1Ltr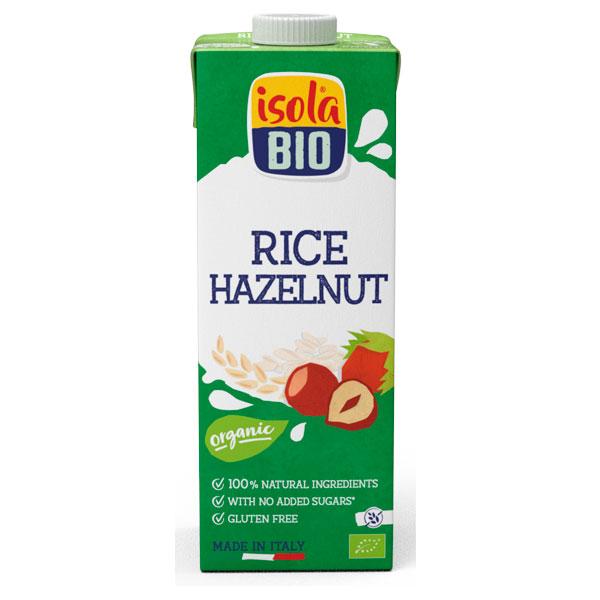 Rice/nut blends are an art form at Isola Bio, you know. Well, here's another masterpiece of ours which you will find healthily yummy. We have mixed sublimely light rice with intense hazelnuts for a delightful taste experience that you'll want to enjoy by gulps rather than sips! Try it at breakfast, in smoothies or cold by the glass whenever you fancy a break!
Hazelnut Milk Usage Suggestions
Hazelnut milk has a strong, distinct flavour that can be enjoyed alone or as an excellent addition to hot chocolate or coffee. It's great for baking and desserts; substitute it for dairy milk in chocolate cake recipes.
Plant-Based
100% organic
Gluten Free
Dairy Free
No Added Sugars
Vegan
Nutritional Information
Average Values per 100g
Energy
333kJ / 79kcal
Fat
2.7g
of which: Saturates
0.4g
of which: Mono-unsaturates
1.5g
of which: Polyunsaturates
0.8g
Carbohydrates
12.5g
of which: sugars
5.5g
Fibre
0.9g
Protein
0.8g
Salt
0.08g
Product Information
Ingredients
Water, organic rice (17%), organic hazelnuts (3%), organic cold pressed sunflower oil, sea salt
Allergen Advice
Contains hazelnuts and may contain traces of other nuts
Suitable for
Vegetarians, vegans, dairy free, gluten free
Produce of
Italy
Sizes Available
1ltr