Sunita | Organic Black Tahini - 170g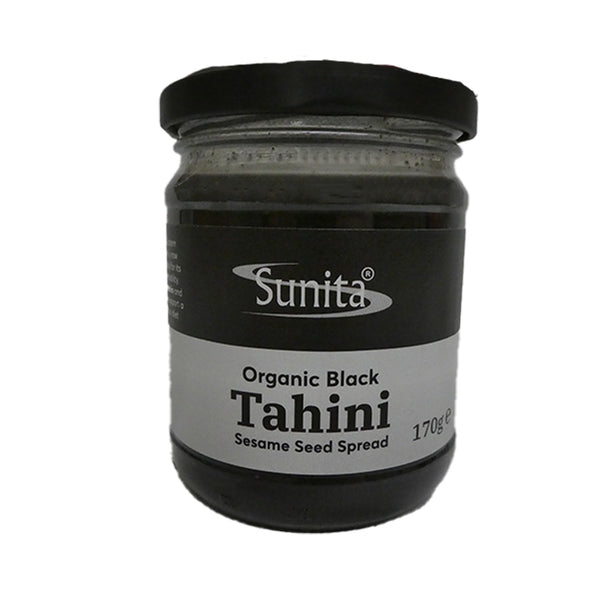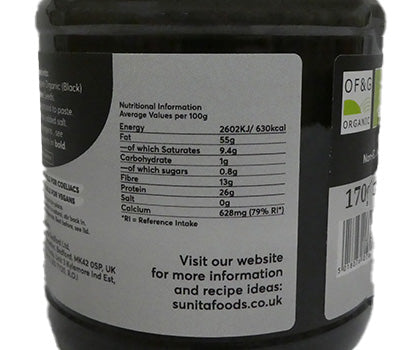 Sunita Organic Black Tahini is produced with care to ensure a top quality tahini is produced. 
Features & Usage Suggestions of Sunita Black Tahini
Tahini is a great alternative to peanut butter and other nut butters. Serve with pitta bread for a wholesome snack or starter. Use to make home-made hummus. Blend with olive oil, lemon juice and a pinch of sea salt to make a delicious vegan dressing and drizzle over falafels, cooked vegetables, rice dishes, and salads.
Nutritional Information
Average Values per 100g
Energy
2602kJ /630kcal
Fat
55.0g
of which: Saturates
9.4g
Carbohydrates
1.0g
of which: sugars
0.8g
Fibre
13.0g
Protein
26.0g
Calcium
628mg (79% RI*)
Salt
0.0g
*RI = Reference Intake
Product Information
Ingredients
100% Organic Black sesame seeds.
Allergen Advice
Contains sesame seeds.
Produce of
Greece
Sizes Available
170g